Is Ri Jung Jyuk From CLOY The Perfect Boyfriend?
---
Crash Landing on You (CLOY) has definitely crash landed on our hearts! In addition to the exciting story, it turns out there are many tips about romance that you can learn from!
Crash Landing on You (CLOY) became the most popular drama in 2020 and has the highest rating ever aired by TVN. The drama played by Hyun Bin as Captain Ri Jung Hyuk and Son Ye Jin as Yoon Se-Ri successfully attracted the attention of Korean drama lovers, including you. Besides the interesting story, there are many dating tips and love lessons you get from this drama.
So, what makes Ri Jung Hyeuk the ideal man of all women?
1. He's a Great Leader
Captain Ri always pays attention to his team. He always made sure they had eaten and were not involved in the problem. If you are looking for the right partner, don't just pay attention to how he behaves in front of you, but also pay attention to how he behaves other people around you. This will show his true character.
2. He's Always A Gentleman
Ri Jung Hyuk is a gentleman. He always protects and pays attention to Yoon Se-ri, for example holding the door for her and walking beside her. I mean, it's the little things that differs a guy from a man!
3. Always positive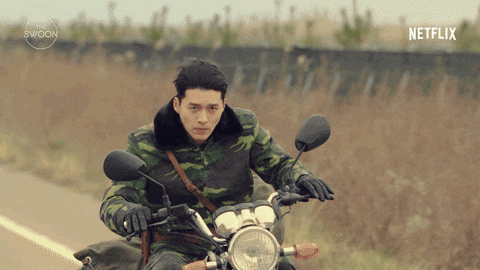 Captain Ri in CLOY shows great leadership skills with his diligence and positive thinking. Even though there are things that don't go according to his plan, he keeps thinking positively and continues to look for other ways to help Se-Ri cross the border.
I'm no date expert but a man that commits to his goals? YES PLEASE!
4. He's Caring and Sensitive
Captain Ri is very caring and not afraid to show his feelings! He made Se-Ri coffee, bought shampoo and scented candles in CLOY! Simple things like this will make a difference. So, pay attention and do the little thing for your dating partner.
5 - A Man of His Words
Captain Ri always stays true to his words. Even though he has no feeling towards his fiancee, he's still willing to go through the engagement because he honors his parents and the promise they have made.
So guys, always make promises you can keep. Ladies like men who are trustworthy and dependable!
That's our top 4 (out of so many!) dating tips from Ri Jung Hyeuk that shows he is the ideal man. So for all the single guys out there, this would be a GOOD reference on how be the dream guy the ladies are looking for (just watch CLOY!) and as for the ladies, I think all the best in finding your own Captain Ri Jung Hyeuk!
If you're single and looking for your own person to crash land on YOU, click the link below.
Our consultants are more than happy to take the journey with you!
---
Recommended posts