Lunch Actually Thursdate LIVE Series!
with @you_yi (TV Presenter, Actress)
LIVE on @violetlim Instagram!
Chief Cupid of Lunch Actually
Register For Our Mailing List for Future Updates!
days
hours
minutes
seconds
days
hours
minutes
seconds
Learn How to Love Yourself with Us!
Chief Cupid, CEO & Co-Founder of Lunch Actually
Violet is Asia's Love Guru and Resident Love Expert at Class95FM. Singles tune in to watch her speak about dating and relationship every week!
"Enjoyed the webinars, they are very down-to-earth and relaxing. Thank you for your time and efforts!"

"It discusses subjects that we really need to know. It's really helpful especially for personality development and how to
communicate better!"
"It's addictive! Very helpful and fun way to learn. Interesting, lively and awesome!"
"I learnt a lot from the special guests and the webinars are very interactive and informative."
"I pick up a lot of knowledge in dating and how to be a better dater! Keep it up!"
Picked up a lot of knowledge!
Interactive and informative!
"...because I hear advice from people who have experienced the issues themselves in real life, and not from typical articles in the internet."
Join our amazing and positive community today!If you have any topic suggestions or would like to nominate an expert to be a Guest Speaker in our webinar, email [email protected]
Special Access to Our Past Webinars
Only Available to Lunch Actually Subscribers!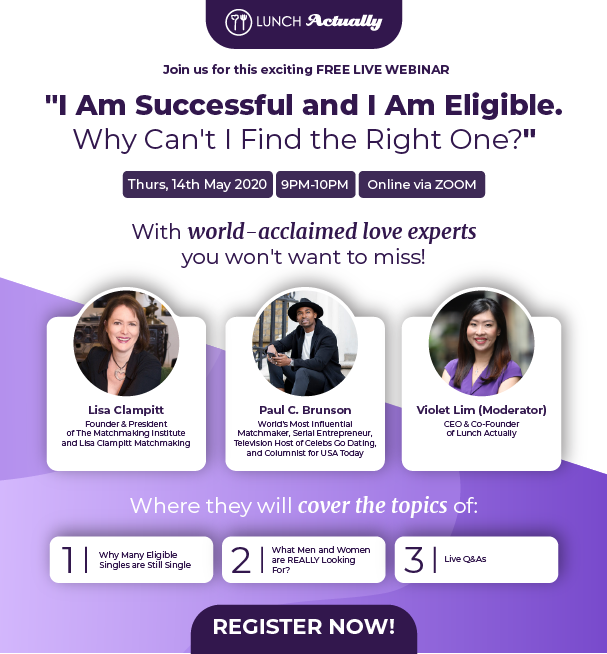 I Am Successful and I Am Eligible. Why Can't I Find the Right One?
Being Your Best Self for The Best Partner to Find You
No One Lives Up To My Expectations,
Am I Too Picky?
The Introverts Guide to
Relationship Building
Finding Love Again
After a Heartbreak
5 Irresistible Texting Secrets
to Get a Reply Every Time
Copyright © 2022 All rights reserved.